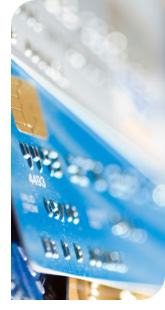 If you need employees to have a convenient way to make purchases for your business, and yet retain the ability to control and track expenditures, a Campbell & Fetter Bank VISA or MC Credit Card is what you need. Each employee has their own card with their name on it, but you receive one consolidated billing. This gives employees a convenient way to conduct business, but maintains accountability and simplicity with only one bill to pay.
Online Account Access is the fast and convenient way to access your credit card information on the Internet 24 hours a day, 7 days a week. Need to verify your account balance? Looking for a convenient way to make a payment? With Online Account Access, you can organize your finances quickly, safely, and securely. Whether you're at home, at work or on the road, Online Account Access makes it easy to access a variety of easy-to-use services.
Lost, stolen or to dispute a charge; call the 24 hour cardmember service number at 1-800-558-3424 or 866-234-4691.