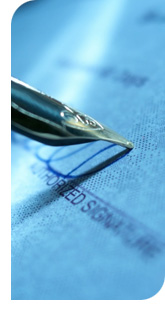 A checking account is the foundation of every business banking relationship.
Excellent service, convenient access to your funds, proven performance - you can count on the Campbell & Fetter Bank to be there for you.
We have been serving the needs of business in Northeast Indiana since 1863. If you are looking for a safe and secure place to put your money, a checking account with the Campbell & Fetter Bank is a great place to start. Our business checking options are as follows:
Business NOW Checking – If you are a sole proprietor or a partnership business, our Business NOW pays you a market rate of interest. The account is free if an average balance of $1,100 is maintained. Average balances under $1,100 receive a $10.00 per month service charge
Business Analysis Checking – In this account, an earnings credit based on the balances in your account is used to offset the activity and maintenance charges. The earnings credit reflects a market rate of interest. With this account, there is no specific required minimum balance.
REPO Account - If you have significant excess funds in your checking account, our cash management account automatically sweeps the excess funds into an account that pays a market rate of interest. We automatically sweep the funds back to be available to pay checks as they come in. The sweep account is backed by a repurchase agreement supported by our investment portfolio.
Bad Check Program - Having problems with uncollected or returned checks? Click either of the links below to see if the Bad Check Program can help you collect these funds.
www.elkhartcountyprosecutor.com
www.checkprogram.com/noblecountyin
Contact us today to talk about what we can do for your business.
Click here for a list of our offices.